What is WABIY Wunners?
WABIY hosts its own running and walking groups for members of our community struggling with mental illness. We take to the River Valley every Tuesday come rain or shine and get our bodies moving out in nature. The format of these meet-ups are less-formal than our peer-support meetings, but still maintain a safe sense of community where people can just come as they are and exist, regardless of what's happening in their world.
Where to Find Us
We meet at the bottom of the Royal Glenora Stairs and both the walking group and running group start and finish there. There is free parking available just south of the stairs and dogs are always welcome!
To find out more about the WABIY Wunners, including format and directions, click on a specific calendar event here.
Walking Group: Tuesdays 6:30pm-7:30pm
Running Group: Tuesdays 7:30pm - 8:15pm
Nervous about joining us? Check out out FAQs below!
WABIY Walkers Community Activities
Walk 'n' Chalk (with a little bit of talk)
When Spring finally arrived, we took to the sidewalks of Edmonton and chalked them up with messages of hope and happiness. We had just as much fun seeing posts on social media from random strangers finding our messages and spreading the joy :)
Messages of Hope
Hanging tiny notes of motivation, love and hope around the River Valley was the main aim of one of our community walks. It felt good to see the faces of strangers finding them and taking them home as a little pick-me-up :)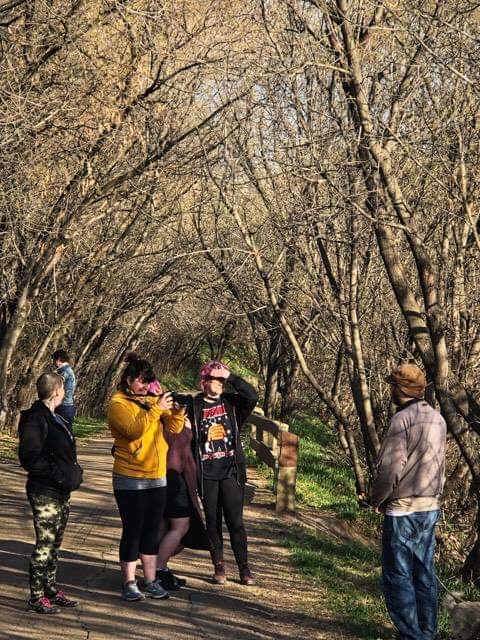 Frequently Asked Questions
Are the walking and running groups two separate things? ↯
Yes. You are welcome to join us for a gentle walk or a jog/run (or both!) depending on how you're feeling.
DO I NEED TO REGISTER TO ATTEND? ↯
You do not need to pre-register to attend WABIY Wunners, simply show up whenever you're free. We typically post an attendance poll in our WABIY Online Community to gauge numbers each week, and for the safety of our leaders and members, we will cancel a run/walk if fewer than three people are planning to be there. Please note that you will be asked to complete a short waiver before your first walk or run with us - it will include basic information such as name, phone number, address, and any relevant medical/mental health information. The information provided will not be passed on to a third party.
How will I know whether the walk/run is cancelled? ↯
From time-to-time we may have to cancel a walk/run group. We will post messages on both our Instagram and our online community page by 4pm every Tuesday if the walk or run (or both) are not going to be taking place. Please ensure that you check these before you show up!
Can I bring my dog(s)? ↯
Absolutely! Dogs are welcome at both the walking and running groups. Please note that most of the routes we take will require dogs to be on a leash. It's also prudent to mention that a lot of our members struggle with anxiety disorders, so if your dog is generally jumpy or barky, please make an informed decision whether they would be a good fit for the groups. Our members and their mental wellbeing will always be a priority.
Are children or minors allowed to attend? ↯
Yes! Due to the less-formal support atmosphere that we typically see at our walking group, we welcome children and minors to join us. Minors must be supervised by an adult at all times. The WABIY running group will be physically challenging and we would advise that children do not attend this group unless they are able to keep pace with the slowest adult in attendance.
Please be aware that there may be adult topics of conversation and language that may not be appropriate for young children. The inclusion of a minor is at the discretion of the accompanying adult(s). Adults will be required to sign a waiver on their first walk/run which will include a clause regarding the inclusion of - and responsibility for - minors. If you have any questions surrounding this, please contact becs@weallbelieveinyou.com.
I want to try running but I'm worried I'll be too slow. Can I still come? ↯
100%. The format of our running group means that nobody will ever be left behind. Whether you're a seasoned runner, or have yet to lace up a pair of running shoes, there will be a pace for you! The leader will always remain at the back of the group, and faster members will have designated turnaround points throughout the route where they will be instructed to run/jog back to the leader before heading out again. This ensures that nobody is alone and we all start and finish together! (Also, we hear your brain churning - rest assured that nobody cares what you look like, how fast or slow you are, or how many times you need to stop to walk, it is a totally judgment-free zone and all we ask is that you show up and try!)
Will I be required to share anything about myself during the walks/runs? ↯
Never. As with our in-person support meetings, there is never any pressure to share anything about yourself or your struggles. The community is there to listen if you are needing support, but you will never be asked to say anything other than your name and pronouns at the beginning of each meet-up. Some people simply show up and walk in silence and that's enough for them, others talk about vacations, dogs, and their favourite movies - come as you are!